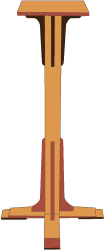 Most of the lumber I use for Revisioned Furniture was reclaimed over the past 40 years
while I was a contractor/carpenter and owner of Montgomery Building Company in
Decatur, GA.  During those years I held out the pieces of lumber from demolitions that
I didn't want to see hauled off to the landfill.  Wood that for decades has been oak flooring, pine roof rafters, or redwood decking.  I take this lumber, pull the nails,
run it through the planer and the result is wood with a deeper color and tighter grain
than anything grown and sold today.
Much of the furniture that you see on my gallery or shop pages was custom ordered
to serve a particular purpose or fit a certain space.  Each piece is unique in appearance
and design.  So keep in mind that what you see here can be resized or redesigned
according to individual needs or preferences.